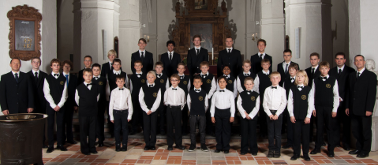 The Assens Boy Singers consist of 20 boys between the ages of 9 and 14 years, and 18 young men and adult singers. The choir was established in 1856, however the tradition of using boys to sing in the church of Assens goes back to the 15th Century.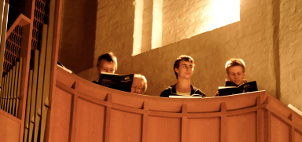 The boys rehearse twice a week and participate in church services at Our Lady´s Church in Assens on Sundays and holidays. New members are recruited at the age of 8 or 9 years, and study at choir school for one year before entering the serving choir.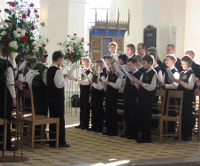 Boy sopranos are gradually changed as their voices break – the whole group of sopranos is replaced approximately every 4 years. Generations of choristers have benefited from this very special education, with its emphasis on high standards and teamwork. Several choristers have chosen music as a career after leaving the choir.
The Assens Boy Singers perform about 20 concerts a year.
Concert tours to many European countries as well as Brazil, Canada/USA and Sri Lanka.
Contact:
Assens Boy Singers
Adelgade 18
DK-5610 Assens
tel.: + 45 2944 7232
mail: post

syngedrengene.dk                                                                     ♫ Audio and video clips